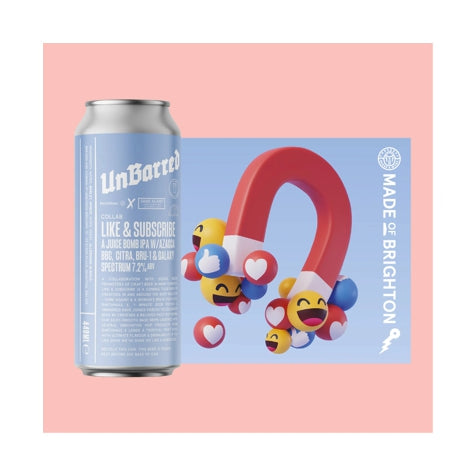 Unbarred
Unbarred - Like & Subscribe, 7.2%
Taking our silky-smooth base NEIPA and then loading it with several innovative hop products from Barthhass X, we've created a massive tropical punch, with the ultimate balance of flavour and drinkability.
Barthhass X gave us access to some incredible hop products including Azzaca BBC, Citra Bru-1 & Galaxy Spectrum all of which have gone into the creation of this beer. Pouring a luscious, hazy hue with an irresistible bouquet of aromas expect a medley of ripe candied pineapple, passion fruit and citrus zest.
Like & subscribe is a coming together of creatives in and around the beer industry. We've worked with Same Again? & A Women's Brew podcasts, One Minute Beer Review & Barthhaas X to create this big 7.2% New England IPA.
440ml
Checking local availability